Warning: I wouldn't recommend this film to anyone without several caveats, especially because of the violence and the villain's incestuous tendencies.  Definitely not a movie for immature viewers.
____________________________
#5 – 'Gladiator' respects the precedent set by 'Ben-Hur'
'Gladiator', like 'Ben-Hur', is an epic tale of revenge, love, and redemption that hinges on incredible characters that interact with each other in believable ways.  Yes, there's violence.  Yes, there's spectacle and intense action sequences and military triumphs.  But Maximus, Lucilla, Juba, Proxima, and even Commodus are at the centre of the film and that is a large part of what makes 'Gladiator' so well-loved.  In the end, it's not about the gore or the glory.  It's about the characters.
#4 – 'Gladiator' is a revenge story
Arguably, the best stories are revenge stories.  The Count of Monte Cristo, True Grit, Hamlet…all great classics that have vengeance as one of their main themes.  Though I doubt a Roman emperor would lower himself to the level of a slave and fight in the arena, is makes for sweet revenge.
#3 – The emotions are real
So real.  An aching lump in your throat that refuses to go away during the final minutes of the movie. (And at various other scenes as well.)  "I will see you again, but not yet…not yet."  "There was once a dream that was Rome."  I'm honestly choking up just typing all that because IT'S SO BITTERSWEET.
#2 – Hans Zimmer outdid himself
My next 'favorite composer' post will be about Zimmer and I'll talk a little more about his soundtrack for 'Gladiator' then, but I'll say that the score for this film is incredible.  Evocative, moving, thrilling – there's every emotion you can think of.  'Now We Are Free' is unbelievable. (Lisa Gerrard also had a hand in composing it.)
#1 – Maximus Decimus Meridius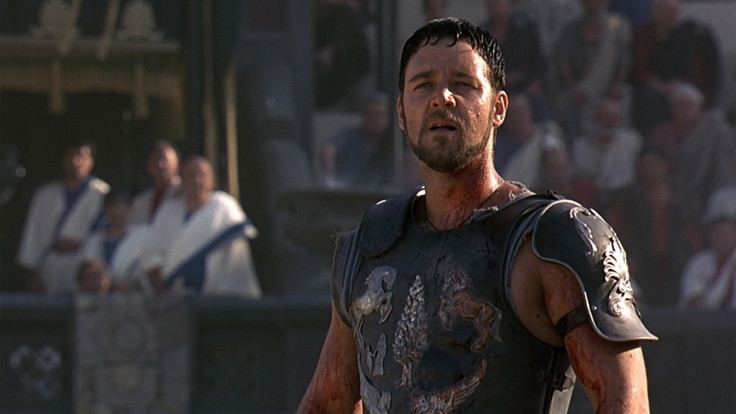 Commander of the armies of the North.  Father to a murdered son.  Husband to a murdered wife.  And he will have his vengeance.  Russell Crowe, the screenwriters, and Ridley Scott created one of the 21st century's greatest film heroes in the character of Maximus.  His grief, his courage, his struggles all command your respect.  He's one of my favorite fictional characters.
(My uncle, whose favorite movie is 'Gladiator', said he wanted to name his son Maximus Decimus Meridius – I'm still not sure if he was serious or not.)
____________________________
Have you seen 'Gladiator'?  Do you love it like I do?
Eva