During World War II, the Nazis steal countless pieces of art and hide them away. Some over-the-hill art scholars, historians, architects and other experts form a unit to retrieve as many of the stolen masterpieces as possible. The mission becomes even more urgent when the team learns about Hitler's "Nero Decree," which orders destruction of the artworks if the Third Reich falls. Caught in a race against time, the men risk their lives to protect some of mankind's greatest achievements.
___________________________________
I don't normally review movies or books until I've watched/read them at least twice (the second viewing always cements my ideas concerning story + characters), but after watching The Monuments Men this afternoon, I decided to review it right away for two reasons: 1) I don't know when I'll get to see it again because I had to pay to watch it with language filters and 2) I doubt my opinion of this movie will change because I LOVED IT SO MUCH.  Watching it felt almost like watching an episode of Combat! or a movie like The Longest Day.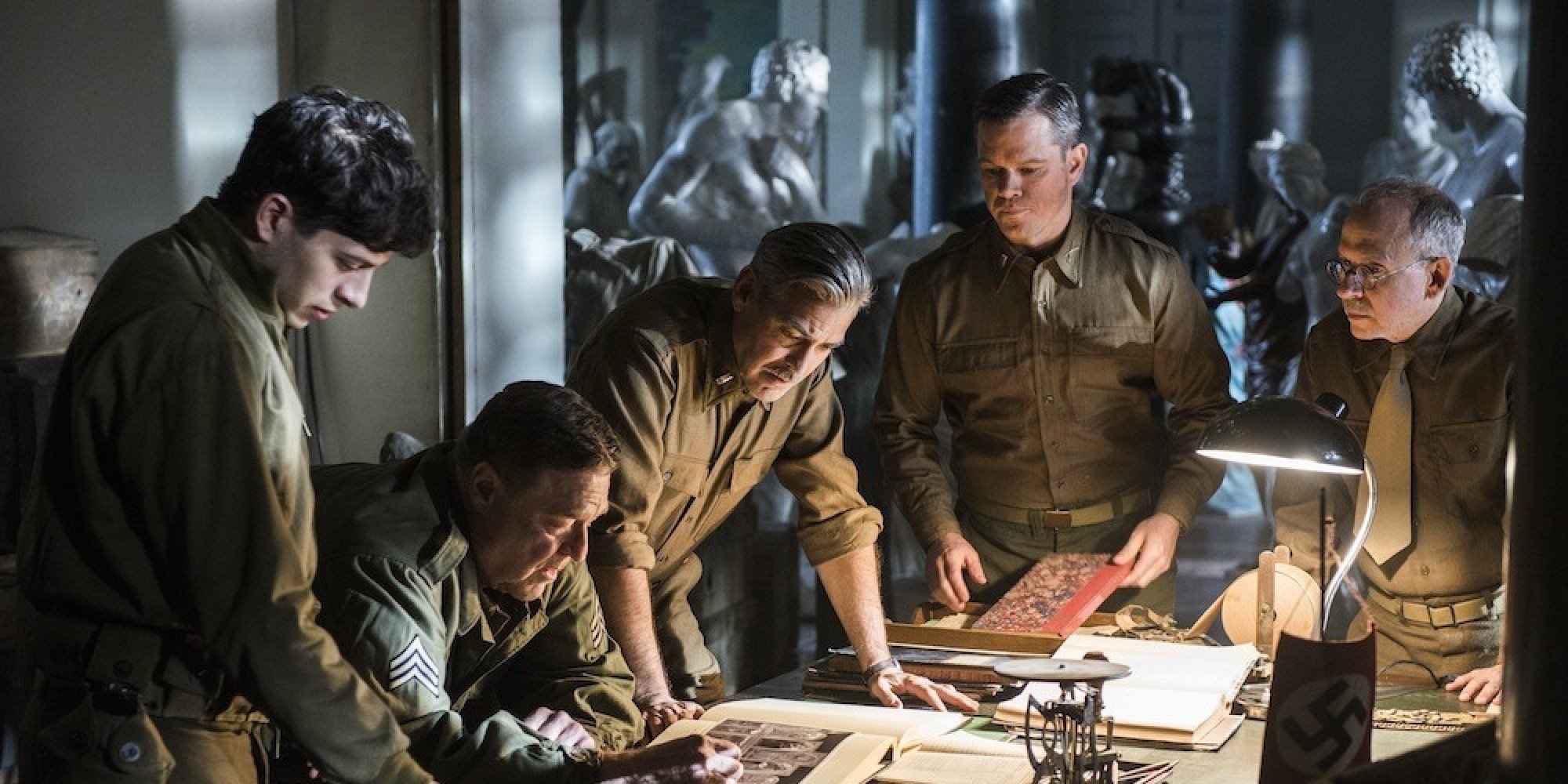 Maybe it was because I watched it without the swearing, maybe the director/producer was going for an old-school feel, maybe the actors watched a bunch of old movies to prep their roles in this…whatever the reason, The Monuments Men felt almost like an old war movie and that's what I loved most about it.  Change it from colour to b&w and one could hardly tell the difference.  I think a lot of the vintage feel came from the fact that the film isn't all depressing and hopeless, with a 'war is pointless and idiotic' message like so many modern war films these days.  Yes, people die but there's always that undercurrent of hope and good, old-fashioned themes of good versus evil.  And the music helps – it really harks back to all the rousing scores for movies like The Great Escape or The Longest Day.  So, add all those elements up, and it was love at first watch.
There's lots I like about this movie.  I like how it covers the whole war in two hours (but never feels rushed).  I like the montage near the beginning when all the characters are called up.  I like the land-mine scene. (Or would it be a mine-mine scene?)  I like Claire and Granger and all the other characters.  I like, as I mentioned before, the music. (SO much.)  I like that it made me laugh and cry.  'Cause I totally cried.  A lot.  I might've just been emotional today in general, but it seemed like I was at least tearing up every other scene.  The two deaths.  When they discover the barrels of gold teeth.  When Granger says goodbye to Claire.  THE ENDING.  Snifffff.  OH AND THE CHRISTMAS PART.  I was a mess.  Also, some of the tears were probably just because, DUH, it's WWII.
The characters were EPIC.  Matt Damon was the main reason I watched this movie, and he didn't disappoint.  I first saw him in Saving Private Ryan, and rather liked him.  Then I watched The Bourne Identity and really liked him, and then I watched The Monuments Men and…yeah.  He's one of the few modern actors I like just as much as the older ones. (Harrison Ford is another.)  Granger was such a sweet character and it was awesome how he stayed true to his wife.  Really appreciated that. ❤  I can't recall any of the other characters' names, really, because I've only seen this once, but they were all a truly likable bunch.  Made me smile more than once.  That French guy (Jean Claude?) reminded me of Caje (from Combat!) so much it was crazy.  Oh, and the German-Jewish kid intrigued me to no end.  I'm assuming his grandfather died…?  I don't remember anyone saying yes or no, but he was sent to Dachau, so… (UGH IT'S ALL SO SAD.)
Anyway, that's my review.  Probably not too coherent, but it's the best I could do.
Have you seen The Monuments Men?
Eva