(Of course, that was an improper use of the word 'literally', but it makes for a snappy blog post title.)
You know the kind of books I'm talking about.  The ones that you adore, the ones that make your heart ten times bigger with happiness, the ones that give you all kinds of feels…but you can't share anyone of that with anyone because when you go on Goodreads, there are zero reviews, and none of your friends have a clue what you're freaking out over.  That's pretty hard, right?  So this post will be a celebration of those books I love to the ends of the earth and back, but are strangely unknown. (Feel free to share your list in the comments – let's all discover some new books today!)
// anything by Jack Cavanaugh //
I believe I've read every one of JC's books except maybe three (and he's written a LOT), re-read tons of them, and I still never get tired of his writing, his stories, and his characters.  Almost everything he's written is crazy good (with the exception of the African Covenant series – I was disappointed in those books) and he has such a way with words.  I recommend his books to everyone I meet (not even kidding), and I've even given away some of my doubles to friends.  I'd say that my favorite thing he's written is the Songs in the Night series, but Glimpses of Truth was the first book of his I read, so that's special, too.  Pretty much anything written by him is highly recommended.
// The Candymakers by Wendy Mass //
I LOVE THIS BOOK.  Basically, it's The Mysterious Benedict Society meets Charlie and the Chocolate Factory, but I think it's better than both those books.  The descriptions of the contest entries – and the chocolate in the factory itself – will make your mouth water, and I love how each character is vibrant and unique.  Especially Phillip.  Phillip is my favorite.  This is a kid's book (best for middle-graders), but it has an excellent message for people of any age, and it always gives me a delicious (no pun intended) feeling of happiness and nostalgia.
// The Secret of Mission T-3 by John & Lisa Fox //
Okay, I'll admit that I've grown out of this book, and I realize that the writing style isn't that great, but this book was such a big part of my childhood that I couldn't leave it out.  And, anyway, I still do like it lots.  There's time travel and dinosaurs and cool technology, and I think most kids (especially boys) would really dig it.  The ending always made me sob when I was little – it was one of my first exposures to self-sacrifice in fiction and it really made me think. (It was probably also the precursor to my crying buckets over Sydney Carton and Steve Rogers and countless others.)
// Set Among Princes by Sharon L. Griffiths //
Another book I read a lot as a tween.  And I mean a LOT.  This rich, sweeping story of life in the Ancient world (first in Britain, then Rome, then Britain again) gripped me for years and years and led to several plagiarized short stories which I ended up throwing away.  It's super good.  At the back of my copy, there's an announcement for a sequel that's 'coming soon', but I looked online and it doesn't seem like the author wrote it after all.  Such a shame.  But that notwithstanding, this book is an excellent standalone.  Now I feel like re-reading it…
// The Underland Chronicles by Suzanne Collins //
Sure, everyone knows about The Hunger Games, but not a lot of people know about this series (at least not in relation to the number of fans THG has).  It's sooooo good.  Sometimes, I think I actually like it better than THG, though I'm not sure which one would come on top if I thought seriously about it.  Lots of the characters are similar to characters in THG, which is neat – three of my siblings have read both serieses (what is the plural of 'series'?), so we like to discuss the differences and similarities between the two.  All in all, the Underland Chronicles may be geared to tweens, but each of the five books deals with tough issues and has at least one major character's death, which makes for a feelsy read just as bad as THG.
// every book in The Scarlet Pimpernel series besides the first one //
Honestly.  You can find copies of TSP everywhere, but have you ever seen El Dorado or The Elusive Pimpernel in a bookstore?  Nope.  And if you have, I'm betting it was a used bookstore.  I love the first book, but all the others are amazing, too (especially El Dorado and Sir Percy Hits Back).  There's one where Chauvelin's daughter gets thrown in prison and Percy goes to rescue her AND IT'S SO AWESOME.  Because Chauvelin gets humanized a little, and Percy is at pretty much his most epic and just-  I love that man so much. *siiiiiiigh*  It's been a while since I've read any TSP books, but I'm planning to re-read at least a couple sometime soon (once I finish Gone With the Wind, that is).
// The Catch Colt by Mary O'Hara //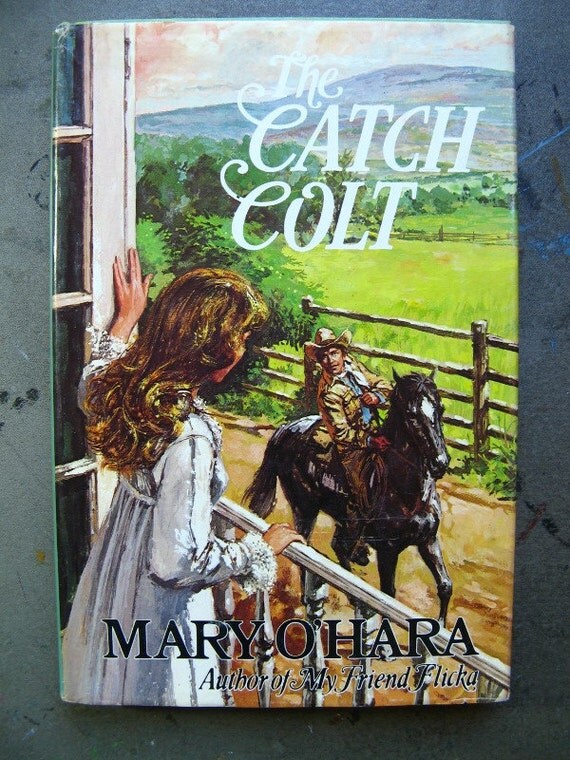 This book is such a sweet, sweet romance.  Sure, there's buckets of insta-love, which I don't really care for in general, but Joey and Letty's relationship turns out to be beautiful and deep anyway.  Plus, I love the subplot of that old guy searching for his long-lost grandson, and the reunion scene between a certain character and a certain dog makes me cry every time. (Sort of like Jem and Dog Monday.)
// Nick of Time by Ted Bell //
When I was maybe thirteen or fourteen, I chanced upon this book at the library and checked it out, took it home, and read it in one evening (and it's not a thin book).  Man, it has everything: a great hero, fierce storms on the open sea, a spooky castle, an English lord and his friend who are working to win WWII before it even begins, submarines, time travel, pirates, a tense game of cat-and-mouse with the Gestapo, and some final chapters that had me flipping pages so fast I barely retained a thing.  One of the great books of my younger teenage years, and one that I still sigh and gasp and laugh over to this day.  The sequel, Time Pirate, is excellent as well, though not quiiiite as good.
If you made a list like this, what books would be on it?
Eva