Animated movies.  I love 'em.  They're colorful, funny, full of heart and happiness – basically, they're like a big hug from a friend, a bowl of warm soup, or your favorite sweater.  Because my love for these movies is so deep, I had a hard time narrowing my favorites down to ten, so I've also included a list of ten runners-up.  And I've also managed to get this list into the order I actually like/love these movies, not just some random order (the way I usually do things).  Yay!
// Robin Hood – 1973 //
Ohhhh, the memories.  My grandparents owned a VHS of this movie and I watched it innumerable times during my little-kid years.  And then the VHS got lost and I moved on to Jane Austen films and I didn't see RH again for years until some kind person put it on Youtube.  So I watched it and it turned out that every song, every bit of incidental music, every sound effect, and every line of dialogue was stamped in my brain.  Permanently.  Which was a little weird at first but I soon got used to it.  Anyway, I don't know why this movie isn't better known because it's practically perfect.  Robin Hood is awesome and I tear up (every. single. time.) when he sacrifices himself to make sure everyone else gets away safely. (Of course, it turns out all right in the end, but things are still tense for a bit.)
// Meet The Robinsons – 2007 //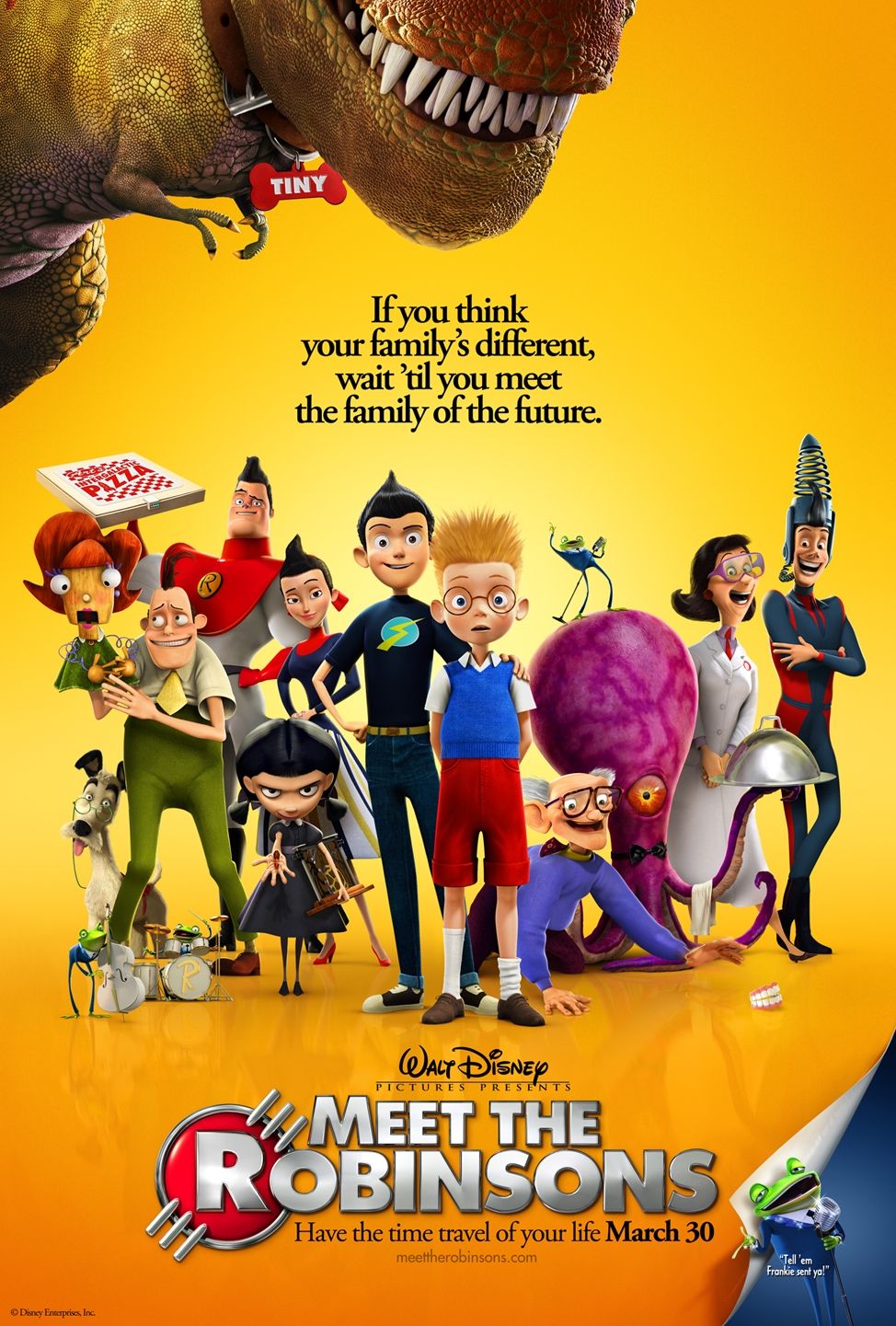 Next to Robin Hood, there isn't an animated movie that's more special to me than this one.  I laugh hard and cry hard and I'm pretty much a mess by the end.  It's so, SO good – another Disney movie that isn't well-known but totally should be.  There isn't any mushy romance or characters rebelling against their parents ('cause Lewis doesn't have any – *snifffff*) or scary stuff (honestly, Bowler Hat Guy is more pathetic than anything else).  I love the themes of friendship and belonging and just-WATCH IT.  You'll love it.
// Big Hero 6 – 2014 //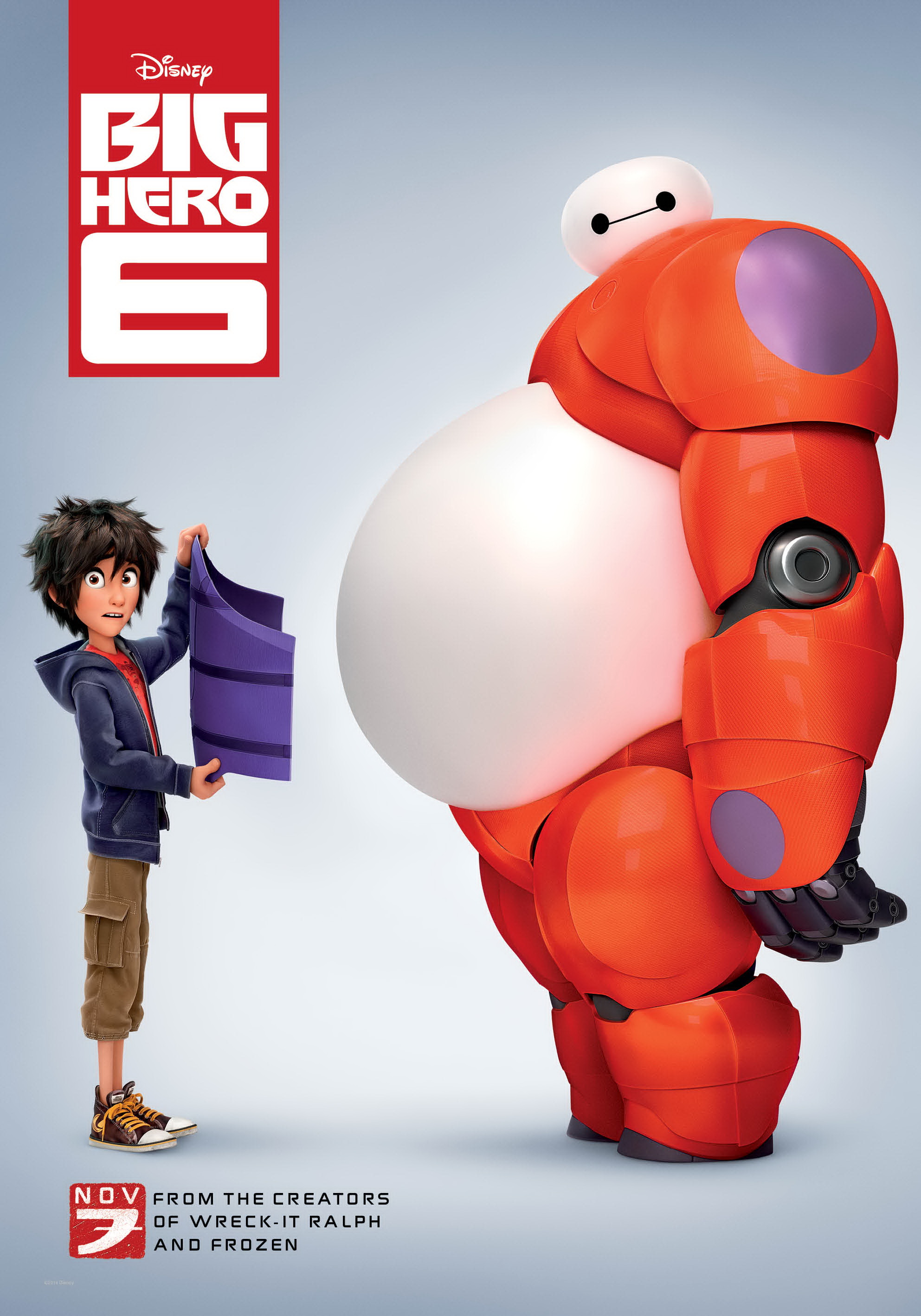 Newest favorite animated film.  I reviewed it here so I'm not going to re-hash all my fangirling right now.
// How To Train Your Dragon – 2010 //
GAH.  This movie.  Makes me cry.  A lot.  (I'm sensing a theme here, people…)  Although usually it's not because of Sad Stuff (that comes more in the second one) – it's more about Hiccup and Toothless' friendship (the 'Forbidden Friendship' scene ALWAYS gets to me) and how Stoick finally accepts Hiccup and, okay, the whole 'he's dead/he's not dead' thing always brings on the waterworks because Stoick looks SO heart-broken. (Ugh, just wait until it's HICCUP KNEELING OVER STOICK'S BODY.  I CAN'T, GUYS.)  But don't get me wrong!  This is a fun, smart, adventurous movie.  It just tends to have more depth than a lot of animated (not to mention live-action) films.
// Tangled – 2010 //
I believe I watched this about six times in the first few weeks after I discovered it.  My love for Tangled has toned down (slightly) since then, but it never fails to move me, make me smile, and give me the warm fuzzies.  Besides the lovely friendship/romance between Rapunzel and Flynn, Tangled also has an incredibly well-rounded villainess in Mother Gothel, and a touching parents-daughter relationship between Rapunzel and the King and Queen.  Plus, all those great songs.  What's not to love?
// The Great Mouse Detective – 1986 //
Another little-known Disney movie.  It's quite short (only an hour and fifteen minutes) and there is a song that we skip (the one in the tavern), but other than that, it's great.  Basil is one of my favorite Disney characters ever, Ratigan is one of my favorite Disney villains ever (if not the top favorite) and Dawson is one of my favorite Disney sidekicks ever. (You can see that I love the characters a lot.)  Even if I do end up watching Sherlock sometime, I'm sure that this movie and Basil himself will remain my favorite incarnation of Sherlock Holmes.
// The Lego Movie – 2014 //
Wasn't expecting to like this in the least (the trailer looked extremely dumb – that was before I realized that the whole movie is a parody of 'the chosen one/hero's quest' trope) but my brothers love anything that's related to Lego, so I saw this more times than I care to count.  And it kinda crept up on my until I liked it enough to include on this list.  Again, I love the characters and I enjoy the humor (my siblings and I quote from this movie pretty much all the time).  Overall, it's a neat film – the only part I didn't like was the 'real-life' sequences.  Meh.
// Inside Out – 2015 //
Now this was one movie I had verrry high expectations for, and it's one of the few that actually delivered on every level.  The clever world-building, the characters, the emotional punch in the gut (GUYSSSS…I still can't deal with You Know What Happening), the satisfying ending…it all added up to a sensational bit of movie-making.  The only reason it's not higher up on this list is because my siblings have watched it to death and I've gotten a wee bit tired of it.  Still, it's a great movie. (Also, I relate to Sadness so much it's not even funny.  Which it wouldn't be anyway, but- you get what I mean.)
// How To Train Your Dragon 2 – 2014 //
You know the sequel's good if I have it on here along with the first one.  Hiccup and Astrid have matured (their relationship is the cutest thing, I'm telling you), Toothless is the same as ever, there's a larger scope to the story, the music is even more epic – everything is bigger, in the best possible way. (I still like the first movie better, though.)  And can you spell 'emotional turmoil'?  Almost everything from when Hiccup meets You Know Who to the end has me emotional in one degree or another. (Honestly, I should do a post all about emotional moments in my favorite animated movies – good or bad idea?)  I can't wait to see what they do with the trequel.
// Up – 2009 //
FEELS.  FEELS EVERYWHERE.  I CAN'T HANDLE IT.  Leave me to wallow in these feels forever and ever.  To be honest, I'm tearing up just thinking about the 'married life' montage. *cries* (May I just add that the soundtrack for this movie is one of the best I've ever heard?  It even won an Oscar.)  And again, the only reason it's not higher on this list is because I've seen it one too many times.  But I still think it's a masterpiece.
// Honourable Mentions //
Frozen – 2013

Cloudy With a Chance of Meatballs – 2009

Wreck-It Ralph – 2012

Despicable Me – 2010

The Lorax – 2012

The Prince of Egypt – 1998

Kung Fu Panda – 2008

EDIT:

Epic – 2013

Aladdin – 1992

Cloudy With a Chance of Meatballs 2 – 2013

EDIT: Monsters, Inc. – 2001

WALL-E – 2008
Do you spot any favorites on this list?  What movies would be your top ten picks?
Eva