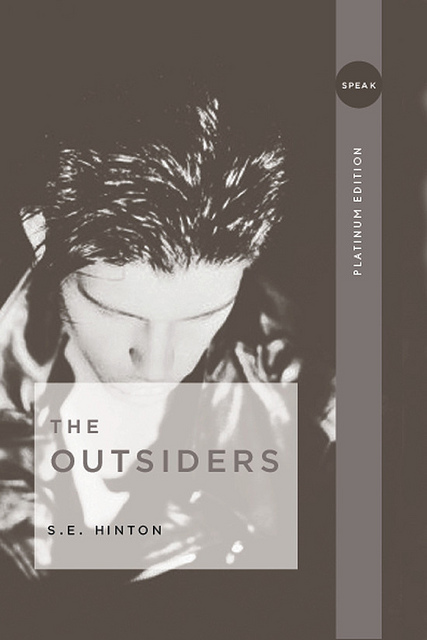 Y'know those books that grab hold of you from the first page and won't let go, ever?  That's The Outsiders.  I read it in a blaze of speed, starting last evening and finishing it this morning (no, I didn't read it through the night – but I could've).  Shane was like that.  So was To Kill A Mockingbird.  And a bunch of other books.  If a book can grip my interest like that, make me totally invested in the characters (and what characters!), and have me in tears over a half dozen times, it's a keeper.
Yes, I was a bit leery about reading The Outsiders at first, simply because it's so foreign to what I usually read (the 60s? greasers? what?) but I'd heard it was super good (and Hamlette rated it five-out-of-five on Goodreads) and there was only a little  language/inappropriate content, so I gave it a try.  I vaguely knew the story (very vaguely) because one of the girls I follow on Pinterest is obsessed with both the book and the movie, but I wasn't prepared to fall in love with all the characters as fiercely as I did.  And I definitely wasn't expecting the story to be so bare and honest and brutal (without being needlessly so).
It was a bit hard to keep track of all the characters at first (I kept getting Darry and Dally mixed up because their names are so similar) but by the end, I was in awe of S.E. Hinton's characterization skills.  Everyone felt very, very real – even the minor characters, like Randy.  Steve was my least favorite, along with most of the Socs (I just don't like Bob and I don't think I ever will), but I loved, loved, loved all the other characters.  The names did weird me out a bit at first, though I quickly got used to them. (But, really…Sodapop?  Ponyboy?  What kind of a dad names his kids like that?)  After a long debate, I think I like Darry the best (but only by a fraction over all the others).  He's the oldest brother and I found that I related to him in that way, since I'm the oldest in my family too. (Did anyone else cry when he came to see Ponyboy in the hospital?) 
But Johnny… *bawls*  And Dally… *bawls*  And all the others, basically.
Personally, I wouldn't like to read books like The Outsiders on a regular basis, since it is quite depressing and bleak (and one thing I didn't appreciate is how the characters smoke all. the. time.), but it was a jolt in my otherwise humdrum-as-of-late reading life and so I appreciate it for that.  Oh, and one other thing I really, really liked about it was how Gone With The Wind featured so much in the story.  That made me smile. (Well, at first…and then it made me cry.)
Have you read this breathtaking book?  (Breathtaking as in 'it will take your breath away with how real and hard it is'.) Let me know your thoughts in the comments!
Eva
Save