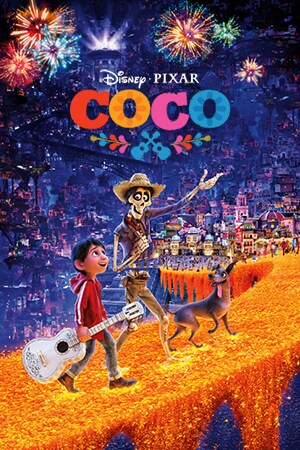 I was late to the party for this year's Reel Infatuation Blogathon (unlike last year) but I thought I'd write the post I had in mind anyway.  I actually went back and forth a little, deciding who I'd write about (because while my list of fictional crushes is looooong there are only a few who I'm really obsessed with).  In the end, I decided to go with a fictional character I've known about for less than two weeks: Héctor from Pixar's latest film, 'Coco'.
SPOILER ALERT.
Who'd have thought I'd crush on Héctor?  I mean, he's dead. (Though who am I kidding?  Pretty much all my favorite fictional characters are dead.)  He's literally a skeleton.  He can be more than a little weird.  But here we are. (*wink*)
So, Lightning McQueen is still my favorite Pixar character.  Definitely.  But Héctor is close behind.  For a lot of different reasons.  Like how he actually was muy guapo.  And his singing voice.  (Gael García Bernal said that he wasn't a professional singer and the director or whatever had to really coach him through the songs, but you could've fooled me!  He does a perfect job.)  And how he leads Miguel in the choreography for 'Un Poco Loco'.  And just…SO MANY THINGS.  I could list tons of moments from the film that make me like Héctor a little more each time I see them.  Okay, fine, I'll just list a few more: when he apologizes to Miguel after the talent show but Miguel doesn't hear him, everything in the sinkhole, ALL of his interactions with Imelda (especially when he accompanies her on 'La Llorana' and "I'm the love of your life?"), and when he sings for Cheech.
The main thing that I find fascinating about Héctor is how my perception of him changed so much over the course of the movie.
Because when you first see Héctor, he's trying gain entrance to the Land of the Living by employing a Frida Kahlo disguise.  It doesn't work and when Héctor tries to dash across the Marigold Bridge that doesn't work either.  At this point, I thought Héctor would be a one-shot character, someone who was there to make add humour to the scene (and illustrate what happened when your photo isn't on the ofrenda) and I didn't expect to see him again.
Then I thought that Héctor was a con artist (which he kind of is at the beginning?).  I mean, he lied about getting front row tickets to Ernesto's Sunrise Spectacular (though, to be honest, getting front row tickets wouldn't have helped Miguel – he needed to be backstage).  He didn't lie to Miguel about anything else, though!  Everything about Ernesto not being a great musician and all that was dead right (lol).  Oh, and I totally called that Héctor would turn out to be a musician himself because it was just obvious, am I right?
Héctor is SUCH a good friend.  Singing Cheech's favorite song and coaching Miguel before and during his 'Un Poco Loco' performance, etc.  He's also a great father (I'm getting emotional just thinking about him and Coco and all that).  And another thing I like about Héctor is that he doesn't care about fame and fortune anymore (#characterdevelopmentforthewin), he just wants to see his daughter again.  I mean, he tells Ernesto that he doesn't care anymore if Ernesto is the one who the world remembers, just as long as Ernesto lets Miguel take Héctor's photo back.  What a change from the young, foolish, pretty selfish guy who left his wife and little girl to do his own thing.
He and Imelda are one of my favorite Pixar couples – they have issues to work through, but they do work through them and Héctor loves Imelda no matter what, no matter if she ever loves him again or not.  In the end, when they're dancing together to Miguel's guitar playing…many tears are shed, let me tell you.
So, overall, Héctor is an amazing character and I love 'Coco' – it's one of the best Pixar films ever made, in my opinion.  Definitely better than 'Finding Dory', so it gives me hope that Pixar's glory days will make a comeback. 😉
Who's your favorite character in 'Coco'?  And what's your favorite song?  And will you ever recover from the feels this movie gave you?
Eva