Ever since Olivia wrote her rant about the Elsie Dinsmore series, I've thought about writing my own post on the same subject.  I don't know how much of a rant it will be since I wasn't personally affected by the books (spiritually or emotionally speaking).  I guess this post will be more of a 'my personal story of Elsie Dinsmore obsession' mixed with problematic stuff I've since discovered in the series.
I don't even know where my dad found five antique Elsie Dinsmore books (the first five) but he did.  My mom read the first two or three aloud to me when I was about ten…and I was hooked.  I read and reread those five books a million times. (Well, it was more like four books because the first one went missing for the longest time.  But anyway.)  And then we found the sixth book, Elsie's Children, and I devoured that one as well.
I would read all six books, wait a few weeks or months, and then read them again.  It was literally an obsession.
Why?  Well, for starters, I found the concept of a series where each book built upon the last one very cool and satisfying. (Up until this point my experience with book series had been Nancy Drew and the Hardy Boys.)  I honestly felt like the Dinsmores and Travillas were my second family, I had spent so much time with them.  Secondly, the books are super interesting.  New, bad stuff is always happening to Elsie.  Lol.  And thirdly, there are a few (very few) good things about the books. (More on that in a bit.)
A family friend eventually gifted me all the books (minus one or two later ones).  I remember reading Elsie's Widowhood on my school lunch break and literally sobbing.  Like, tears streaming down my face sobbing.  MR. TRAVILLA DIED.  IT'S SO SAD.
Which brings me to my first knock against the books.  Mr. Travilla's relationship with Elsie is creepy.  He's, like, late twenties (at LEAST) when he first meets her and he moons about her so much.  Always.  Like, from when she's eight and up until, BOOM, she turns twenty-one and he can suddenly propose.  I didn't think anything of all that when I was younger, but in hindsight…ew. (Though they were a pretty sweet married couple. *ducks flying tomatoes*  They were!  I still have some good feelings for this series.)
Then there's the racism.  Yes, the ED books were a product of their time.  But that doesn't make the racism right.  One of the scenes that sticks out to me the most is that priceless moment when Elsie has another baby and her kids say "I'm so glad it isn't yellow like the babies down in the Quarter."
Um.
Yeah.
(We won't get into the whole 'yellow' means 'mulatto' and there are only, like, two white guys on the place.  That includes Mr. Travilla.)
(Though kudos to Martha Finley for portraying the KKK as wrong.  Though she glossed over the Reconstruction completely.)
And then there's the character who, like Olivia, I term 'the literal worst': Horace Dinsmore, Sr.  He is truly awful!  I was reading some bits from Elsie's Holidays and he's so controlling and domineering and horrid.  He improves somewhat after his conversion, but the difference is negligible.  He's still proud and cold and stern. (Just not in a cute, shy Mr. Darcy way.)  He still banishes Elsie at one point in the series (after his conversion) which is NOT the way you treat someone you 'love', regardless of what they've done.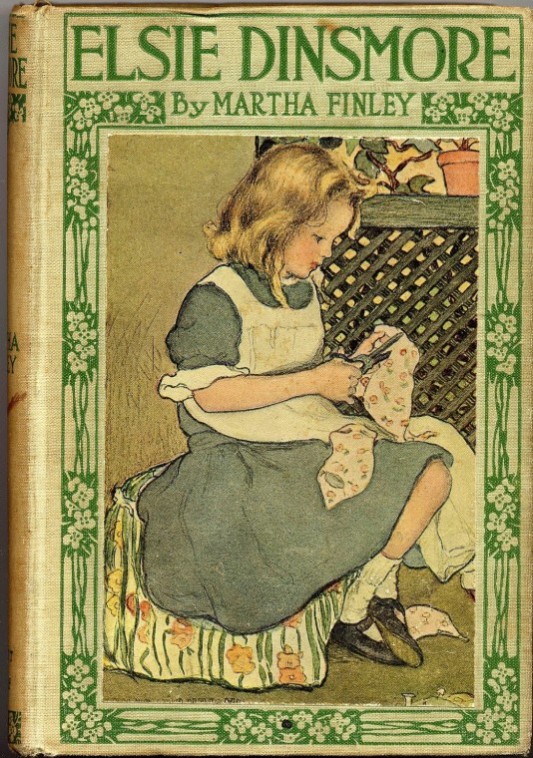 Elsie herself is unbelievable.  She's a saint of a child, constantly bursting out in 'an agony of tears and sobs', and thinks herself the vilest sinner on earth.  She's also the perfect wife and mother.  And drop-dead gorgeous. (Also, what about that literal resurrection scene???)  The only book where I think she achieves some humanity is Elsie's Girlhood.  There, Elsie falls in love with a handsome fortune hunter and because of that, she seems real.  Her struggles to not give up on the guy, even when presented with all sorts of evidence of his Badness, shows she isn't perfect. (Barely.)  I feel that she's the most relatable in that book.
Like I said, there are a few things I enjoy in the series.  Elsie's children are actually good characters, probably because they don't inherit their mom's perfection.  I also like a few other characters.  And Walter Dinsmore is the best in the series.  He reminds me of Walter Blythe. ❤ 
I think the series gave me a taste for historical fiction, so that's awesome.
But other than that…no.  I'll still reread the books for entertainment, nostalgia, and to revisit a few favorite characters and scenes.  But I wouldn't recommend them (unironically) to anyone.
Have you read the Elsie Dinsmore books?  What do think is the most problematic area in the series?  And who is your favorite character?
Eva
P.S. I also had Elsie Dinsmore and Millie Keith paperdolls.  I loved them.
P.P.S. I'd like to read the 'Life of Faith' editions of the books.  I've heard those are better.