Tags!  Tags everywhere!  They're just so fun + easy to answer.  Anyway, the #classicmovietag comes from Raquel over at Out of the Past and it looks incredibly fun.  I haven't spoken about classic films in a while and it's, um, supposed to be one of the focuses of this blog. 😛  So please accept my apologies for the lapse…and enjoy the tag! (Feel free to borrow it, so long as you link back to Raquel's original post.)
Note: There are loads of classic films out there so to keep things simple I'm limiting myself to ones made before 1970.
_________________________
What's one classic movie that you recommend to people over and over and over again?

'The Magnificent Seven' (1960).  I realize that westerns aren't everyone's cup of tea but, honestly, Mag7 transcends the genre (while also showcasing just how good a well-made western can be).  There's a slim chance you might not enjoy it, but I'm willing to take that chance so I'm recommending it to you right now.  Alllll of you.  I've got the main theme as my ringtone and it never fails to bring a smile to my face; so many good memories and feelings are wrapped up in that movie.
What was the last classic film you saw and what were your thoughts about it?

'Mary Poppins' (1964).  I love it, forever and ever.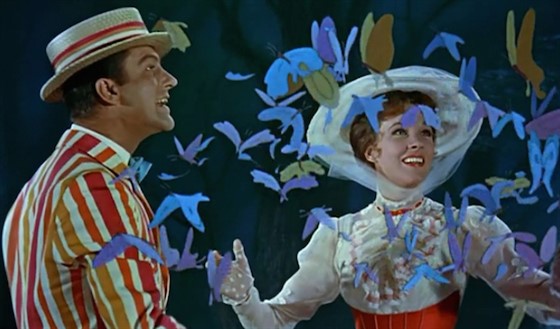 Name a classic movie genre you love and one you dislike.

Love: Biblical epics.  Yes, they're usually super cheesy (even 'Ben-Hur' can devolve into cheesiness at times).  But it's also super cool to see different Bible stories playing out in Technicolor with very little in the way of special effects and very much in the way of real, human acting and Spectacle.
Hate: Screwball comedy.  Stuff like 'Arsenic and Old Lace', pretty much any Cary Grant rom-com, 'You Can't Take it With You'…it's all unappealing (to me).  I prefer movies where common sense reigns instead of chaos, even if it's supposed to be funny. (And I know tons of people do like screwball comedies, so if you do, then that's awesome.)
Name a classic movie star with whom you share a birthday or a hometown.

I share a birthday with Alan Ladd.  Hamlette is very jealous. 😉
Give a shout out to a friend or family member who shares your love of classic movies.

Yeah, that would be Hamlette.  She was the one who really got me into classic film because she recommended 'Combat!' and then I watched a FEW movies with Dana Andrews and she gave me a million recommendations (and continues to do so, for various actors, to this day).  We have so much fun talking about and loving different movies and actors and genres.
Name a classic movie star who makes your heart skip a beat or whom you admire greatly.

Glenn Ford.  I first came across him in '3:10 to Yuma' and after a hasty switch from disliking the film to loving it, he became one of my absolute favorite actors.  I haven't seen him in toooo many movies, but if you recommend a movie to me and you're like, "Oh, by the way, Glenn Ford is in this" I will buy it/borrow it immediately.  He's just…amazing.
Describe one memorable experience watching a classic movie.

When I watched 'The Ox-Bow Incident' for the first time I had no clue how the story was going to go and I was stunned into silence when it ended.  Even though I hate, hate, hate the film as a whole, I do appreciate it sparking my interest in a couple rather handsome actors. (Dana Andrews and Henry Fonda.)
Describe the craziest thing you've done because of your passion for classic movies.

My sister and I stayed up until three or four in the morning to finish watching a Robert Francis marathon that TCM did.  We were wrecked after that.
What's something classic movie related that you love to collect?

Nothing, really?  I have an extremely limited budget for collecting anything (except books, lol).
What's your favorite way to share your passion for classic movies?
Blogging about them. 🙂  Though, like I said earlier, I haven't done that recently.  I will definitely have to change that!
Are you a fan of older classic films?
Eva