Nostalgia.
We all love it.
And one show that's a particularly nostalgic favorite among many people is Boy Meets World.  This seven season show spanned the lives, loves, and losses of three kids (turned adults): Cory, Shawn, and Topanga.  While Boy Meets World aired in the nineties, it has remained a favorite among many people today. 
The thing is, sometimes we can view Boy Meets World with nostalgia – and nothing else. (Well, y'all can.  I only discovered it last week.)  There's nothing wrong with this (it's something I do with a lot of my favorite movies and shows) but I believe that Boy Meets World is just as relevant today as it was in 1993.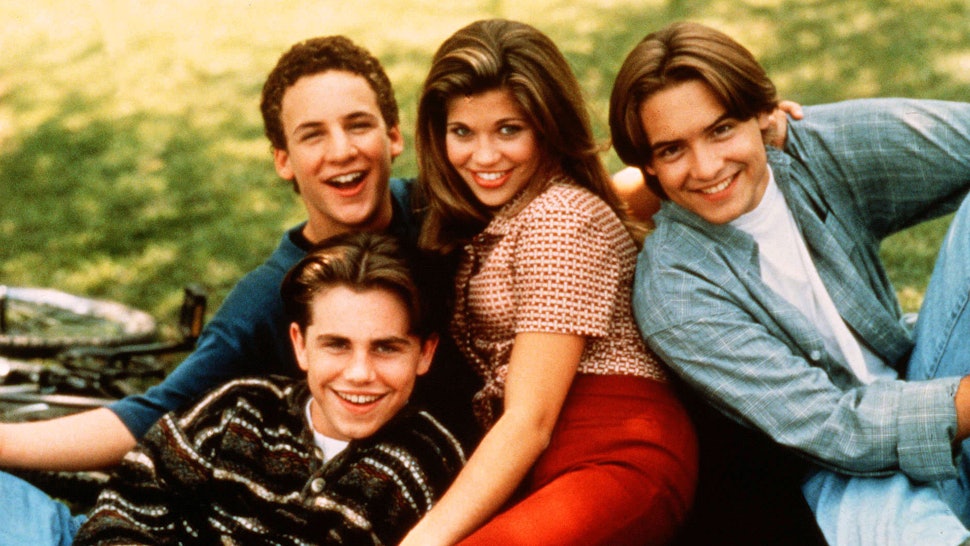 Now, like I mentioned above, I don't feel any nostalgia for Boy Meets World.  I literally started watching it a week or two ago (binge watching and Wikipedia plot summaries have been my two best friends).  But already, this show has my heart.  These characters have my heart.  And the issues they face…many of those issues feel like they've been pulled from my own life.
For example, there's Shawn's relationship with his dad.  My dad was nothing like Shawn's dad.  Let me be clear about that! *grins*  But I still relate to Shawn's struggles to truly know and understand and even appreciate his dad.  I cried when Chet Hunter died.  I cried for Shawn and I cried a bit for myself too.  Because while I had a way better relationship with my dad than Shawn did, there were still rough patches.  There are still things I regret, memories I've lost…it's hard.  And when I'm able to cry over something like a TV show, it lets me release some of my feelings in a healthy, non-scary way?  Idk?
Okay.  That got, um, personal. *smiles sheepishly*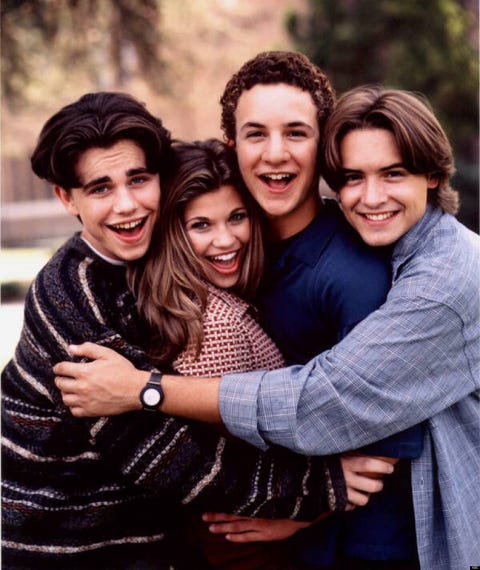 Boy Meets World tackled a bunch of issues that kids and teens and adults still struggle with these days.  Lying, cheating, stealing, vandalizing, school/college stress, peer pressure, figuring out who you are and where you belong and what you believe, premarital sex, the challenges of maintaining a healthy relationship (romantic or otherwise), alcoholism, physical abuse…and the list could go on.  But Boy Meets World never wallowed in the darker side of life.  The characters never slipped beyond redemption.
And that's because the main message of Boy Meets World is that having a family (whether biological or not), having love in your life…it's the most important thing in the world.  Everyone needs a Mr. Feeny in their life.  Everyone needs a Shawn to their Cory (or a Cory to their Shawn).  Everyone deserves to find a Topanga (or be Topanga).  Everyone deserves parents (or parental figures) like Mr. and Mrs. Matthews and Mr. Turner.  And that message?  That's never going to grow old.  No matter what happens.
(ALSO THIS SHOW WILL ALWAYS BE RELEVANT BECAUSE SHAWN HUNTER WILL NEVER NOT BE ADORABLY PERFECT.)
We don't have to watch Boy Meets World through the golden glow of nostalgia (though there is absolutely nothing wrong with that and if you're lucky enough to feel nostalgic about it – unlike me *weeps* – then GO FOR IT).  I feel like I discovered Cory and Shawn and Topanga and all the rest at exactly the right moment.  It's already helped me so much. 
And the show can help all of us. 
Today. 
Right now.
❤
So.  Have you seen Boy Meets World? (Or Girl Meets World?)  Who's your favorite character?  What's your favorite episode?  GIVE ME ALL THE DETAILS.
Eva