"My name is Oliver Queen.  For five years I was stranded on an island…"
"My name is Barry Allen and I am the fastest man alive…"
Over the past several months my family and I have watched four seasons of The Flash and almost four seasons of Arrow.  While both shows definitely do their own thing, they're also connected in more ways than one and I figured it was time to write a comparison post!
// Premise //
Arrow: Oliver Queen, billionaire playboy, has a secret mission: to right the wrongs done (sometimes in the Queen name) to his beloved Star(ling) City.  His ability to fight injustice comes from five years spent (mostly) on a hellish island that was basically a vigilante training boot camp.
The Flash: Barry Allan, CSI for the local police department, has a secret mission: to protect his beloved Central City by using his super-speed to fight crime, metahumans, and Big Bads.
// The Heroes //
Arrow: It took me a long time to warm up to Oliver.  He seemed cold and brutal and way too brooding (like Batman, but worse?).  However, since he took a 'no killing' vow and began to let the people close to him get, well, closer…he's grown on me.  He recognizes that he's done some terrible things but he tries so hard to make it right and I've got a soft spot for heroes like that.
The Flash: Barry Allen is one of my top five favorite superheroes.  He can be a little too mopey, a little too "this is all my fault", but his heart is so big, his motives so pure, his kindness and generosity and just…*siiiiigh*.  But at the same time, Barry isn't a Gary Stu.  He has faults (much as Joe would hate to admit it), he makes mistakes, but he always owns up and apologizes and, yeah, I love him.
// The Teams //
Arrow: Team Arrow is HUGE.  You've got Oliver, Felicity, Laurel, Sarah, Thea, Diggle, Roy…and I'm pretty sure I've missed someone.  There's so many moving parts and the cool thing is that none of them have superpowers.  All they've got is their Mad Skillz.  My favorite in the team is definitely Diggle, closely followed by Oliver and Thea.  I really love the suicide squad episodes where Dig goes off and does his own thing.  So cool.
The Flash: And Team Flash, which started out very small, has added a lot of members over the years.  Barry, Iris, H.R., Cisco, Caitlin, Harry, Julian, Ralph, Joe.  Cisco is the best, as is Caitlin.  And H.R. and Harry…let's just say, I love them all! 😉  Julian is awesome, though I have to admit that he doesn't serve much purpose in the story once he joins Team Flash (other than being Caitlin's love interest).  Oh, well.
// The Villains //
Arrow: My favorite villain is definitely Slade Wilson.  Season 2 of Arrow has been my favorite so far, mainly because Slade was such an epic villain and his connection to Oliver made S2 the most personal one so far (IMO).  Malcolm Merlyn is also a favorite – he's so twisted, but there's a glimmer of honour somewhere in there.  And speaking of honour…DEADSHOT.  (I hardly count him as a villain, though.)  R'as al Ghul was forgettable – I infinitely prefer Liam Neeson's take on the character, y'know?
The Flash: This show has had some pretty unforgettable villains.  Eobard Thawne was the first and the best.  My mom and little siblings are re-watching/watching the first season right now and I'm blown away by how Tom Cavanaugh can convey trustworthiness, sliminess, and mysteriousness so well, all mixed up.  Zoom and Savitar were worthy opponents for Barry.  I liked DeVoe up to a point and then I was over him.  Still, the villains on The Flash are great overall.
// Ships //
Arrow: I hate Felicity.  Hate her.  Words can't express how much I loathe her.  So, obviously, I don't ship her with Oliver, but then, I don't really ship Oliver with anyone.  Slade and Shado, Diggle and Lyla, and Deadshot and his wife are my favorite ships from the show.
The Flash: Annnnd I don't ship Barry and Iris either!  But Caitlin and Ronnie, Caitlin and Julian, and Ralph and that country singer…those are the couples I love.
// Music //
Arrow: Dark, dramatic, and intense.  Blake Neely captures – and creates – the show's atmosphere.
The Flash: Another Blake Neely score (I believe he's responsible for all four Arrowverse shows in that department).  His character themes for Barry, Reverse-Flash, and Captain Cold are all excellent and I also enjoy the touches of quirkiness and humour that make their way into the score.
// Coolness Factor //
Arrow: The League of Shadows is pretty cool.  And Thea is literally the coolest, with her suit and the way she stands up to Malcolm.  She's easily the least annoying female on the show and I find myself rooting for her even more than Oliver sometimes.  Slade Wilson is cool as well, in his own way.  Overall, the show has a gritty, sometimes epic vibe that I dig.
The Flash: Captain Cold.  I rest my case.
// Feels Factor //
Arrow: So, the last episode I watched of this show was the one dealing with the fall-out from Laurel's death and, um, many tears were shed.  Many, many tears.  It was kind of surprising, because Laurel isn't my favorite character by a long shot (though she did improve over the show's run) but I guess I was more attached to her than I thought.  And seeing everyone else broken up about her death…GAH.  Oh, and add to that all the references to Tommy who is the best forever and ever and whyyyyy did the writers kill him off? (That thing in 'Crisis on Earth-X' when his doppelganger shows up?  TOO MANY FEELS.)
The Flash: So much sadness.  Nora Allen's murder (and Barry deciding NOT TO SAVE HER), H.R.'s death, Caitlin's tragic romances, Plastique…there's some major feelsiness going down in every season of The Flash.  I might start crying as much as Barry if the writers don't lighten up soon.
// Overall //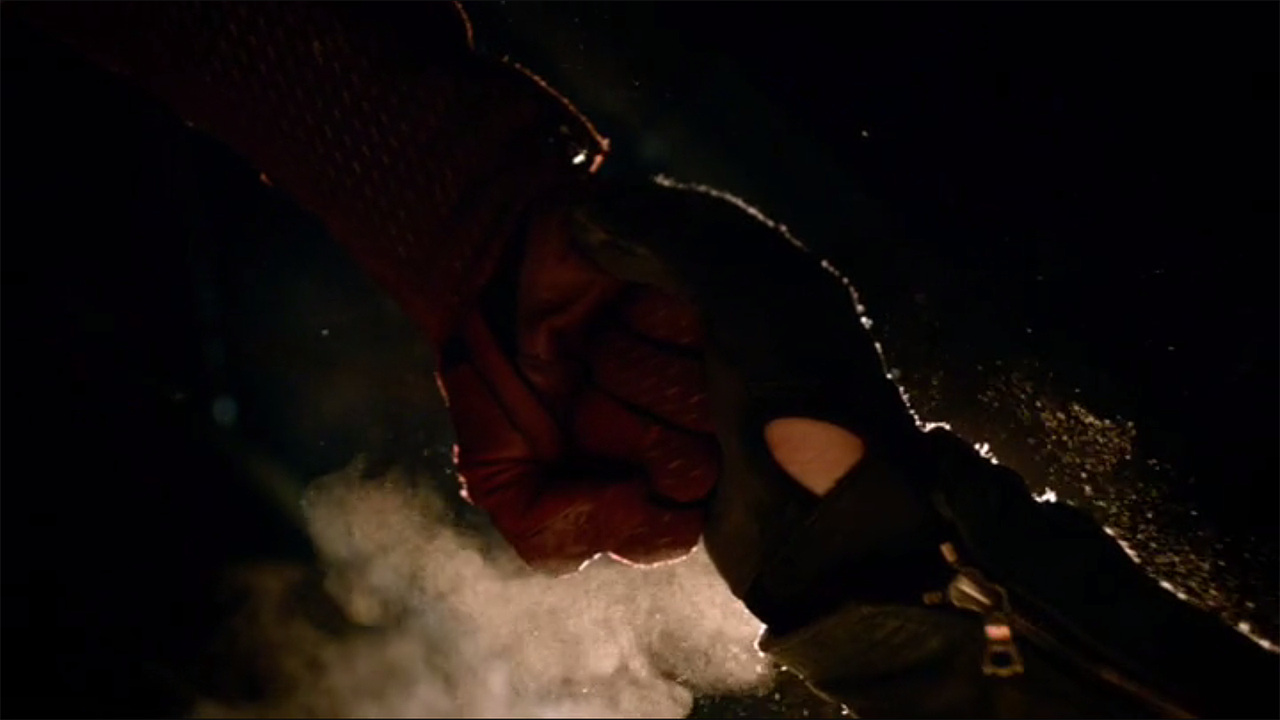 I have a friend who said that it took her until the third or fourth season to really enjoy Arrow.  I have to agree.  Season 1 bored me, Season 2 was the best (and held my attention the best), I skipped most of Season 3, and Season 4 has too much weirdness for me to fully commit.  But I do enjoy it.  So many of the characters have my heart and the action scenes can be pretty entertaining.
But The Flash is my favorite, hands-down.  The characters are more relatable and lovable than those in Arrow, the episodes are rarely boring, the seasons are more tight-knit (probably because there's not many flashbacks), and overall I just like it more.
Both shows, however, are amazing and I'd recommend them to fans of epic superheroes (though not without a few caveats as to violence and adult content – mostly in Arrow).
____________________________________
Have you seen either – or both – of these shows?  Do you agree with my consensus?  Let me know in the comments!
Eva