After some serious binge-watching this morning and afternoon, I finished Season 3 of TURN: Washington's Spies.  I have mixed feelings about this series so, hello, blog post!  Be prepared for rambling and incoherence because this is basically going to be me working out my thoughts and feelings about the show (and I'm still not over that season finale).
(Also, Rosanna M. White – one of my favorite authors – wrote a great blog post that I completely agree with.  Go read it!)
So, I started watching TURN because of Jamie Bell.  Which wasn't a great idea because it's practically made me hate Jamie Bell (I need to watch 'The Eagle' just to clean my brain of his horridness in this show).  See, he plays the main character, Abraham Woodhull (who was a real person, fyi), and I cannot stand Abe.  He's weak.  He's unprincipled.  He doesn't have conviction.  He's a murderer (in both deed and thought).  And, what got to me the most, he's an adulterer.  He cheats on his wife a bunch of times (mostly in the first season) and never apologizes or shows any regret.  It's disgusting.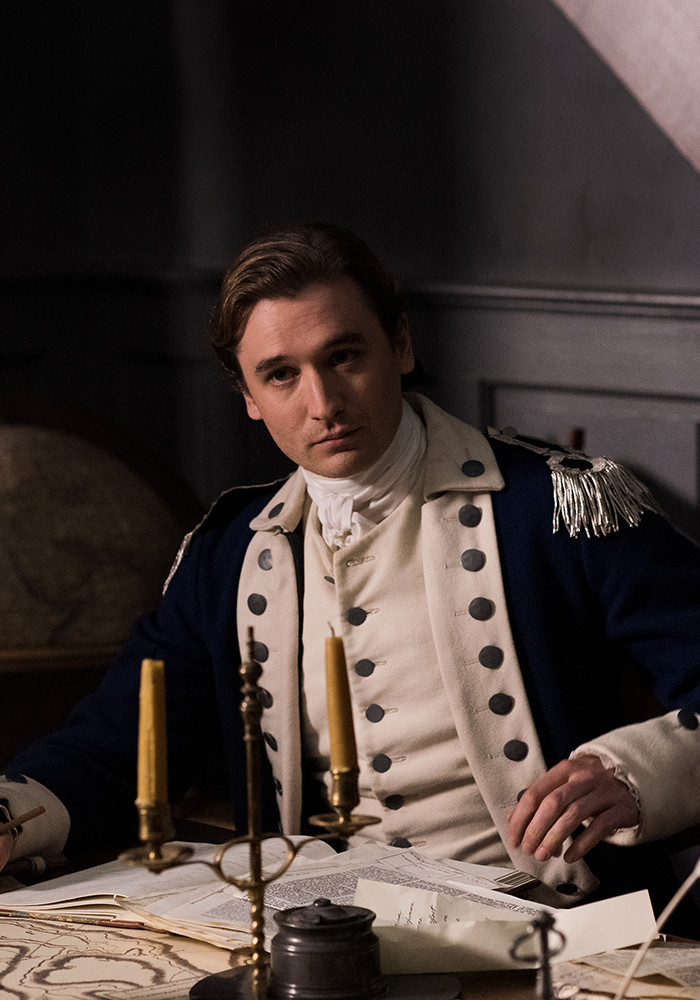 And the thing is, when you have a weak, wimpy, morally bankrupt main character I'm going to have a hard time connecting to the story you're trying to tell.  I slogged my way through Season 1 of TURN, mainly going on the strength of my love for the time period.  Season 2 was a little better because they started focusing more on other characters who I genuinely liked.  And most of the characters improve once you get to know them. (Just not Abe.  Or Simcoe.)
This is going to sound really bad, especially because I love history, but prior to watching TURN I always thought that Benedict Arnold was caught and hung.  But nope, he actually lived into his 60s.  However, I knew that André died and I knew that Peggy Shippen married Benedict so WHY DID THE STUPID WRITERS HAVE TO HAVE ANDRÉ AND PEGGY FALL IN LOVE???  It's incredibly unfair.
Honestly, I don't know if I'm going to continue watching the show.  I do love and adore Ben Tallmadge so I want to see how he grows in the next season.  Ben is one of the deepest characters on the show.  He makes mistakes as Washington's Head of Intelligence, but he picks himself and keeps going.  He's a gentleman.  He cares.  He protects those he loves and mourns when he can't.  But I've become so bored and annoyed with any scenes connected to the Woodhull family.  They're a bunch of sour, depressing, irritating characters with few – if any – redeeming qualities.  And André is gone now (he was my favorite character) so yeah…
The Season 3 finale was really horrible.  Especially André's final moments.  They kept cutting back to Setauket junk and I was like "I DON'T CARE JUST MAKE SURE ANDRÉ AND PEGGY SEE EACH OTHER ONE LAST TIME".  Honestly, people.
(They did see each other again and Ben was so kind and respectful to both André and Peggy that it made me love him a million times more.)
So yeah, idk if I'm going to continue the show.  Have you watched all four seasons?  And if so, what do you think I should do?  Is the fourth season worth watching?
Eva
P.S. This show was rated TV-14 and, in later seasons, TV-MA.  There's a lot of sexual content, swearing, and graphic violence so I can't recommend it to anyone under eighteen. (I watched it via VidAngel, a website I highly recommend.)