Saw this on a couple blogs and I love this sort of tag (even though I've listened to maybe three TSwift songs in my entire life), so yeah.  Let's do this thing. ❤ (I'm not going to tag anyone because I'll be on vacation when you read this so I can't notify people.  Just play if you want.)
_______________________________
1. "We Are Never Ever Getting Back Together":  a book/series you thought you'd love but ended up disliking
The Robe by Lloyd C. Douglas.  I didn't like the movie but I'd heard that the book was very good (and pretty much every review on Goodreads is overwhelmingly positive).  But I found The Robe to be densely written and have more than one theological issue…to the point where I became really uncomfortable reading it.  So I stopped.  I'm still kinda sad about it because biblical fiction is one of my favorite genres, but it is what it is.
2. "Red": a book with a red cover
Catching Fire by Suzanne Collins.  There's at least some red on almost every edition's cover.
3. "The Best Day":  a book that makes you feel nostalgic
King of the Wind by Marguerite Henry.  I haven't read that one in AGES but just thinking about sends nostalgia all through me.  I was madly in love with horses as a tween (cliched, I know) and the Arabian breed was my favorite so I read King of the Wind several times.  Also, most of the Black Stallion books are very nostalgic for me.
4. "Love Story":  a book with forbidden love
Jo's Boys. *weeps*  I have an article about Dan Kean planned for Feminista and I'm going to have to reread Little Men and Jo's Boys in prep and IT'S GOING TO BREAK MY HEART.  Some people argue that Amy wouldn't want her daughter marrying someone like Dan and I agree but it's still awful.  I will never get over it.
5. "I Knew You Were Trouble":  a bad character you can't help but love 
Lol.  I don't try not to love villains.  I'm going to go back a few years for this one and say Luke Castellan from the Percy Jackson series.  I remember reading the last book all in one day in a sort of blur and being so cut up about Luke's death.  He went over to the dark side but at the last minute, when it really counted, he fought back and won. (Even though he died.)  Made me feel things.
6. "Innocent":  a book/series someone ruined for you
Illuminate by Sarah Addison-Fox.  I had some bad dealings with the author as I was reading the book and it soured my enjoyment/opinion of the story. 😛
7. "Everything Has Changed":  a character who goes through extensive character development 
I just finished reading Johnny Tremain and Johnny himself is THE best answer for this question. (It's not really a question, but you get what I mean.)  Johnny starts out as this super arrogant, super competent silversmith apprentice.  And through a series of rather unfortunate events, he changes and matures and becomes pretty awesome.  His character growth is one of the main things that always draws me back to this story.
8. "You Belong With Me": your most-anticipated book release
Rachel Kovaciny's western retelling of Snow White.  I don't believe it has a firm title or release date yet but I'm already super excited.  Her last two western fairytale novellas – Cloaked and Dancing & Doughnuts – were a delight to read and I think I may end up liking the Snow White retelling the best, tbh.
9. "Forever and Always":  your favorite book couple 
Too many to count.  I'm going to go with Percy and Marguerite (The Scarlet Pimpernel + sequels) because their relationship is beautiful and self-sacrificial and swoon-worthy.  I'm dabbling in some TSP fanfiction right now and I can't wait to write these two amazing characters (as best I can).
10. "Come Back . . . Be Here":  the book you would be least likely to lend out 
Either my autographed-by-the-author copy of Finale (by Stephanie Garber) or the Out of Time series by Nadine Brandes.  The first because it's gorgeous and signed and I want to keep it as pristine as possible.  And the second bc those books are quite hard to get in Canada (a friend in the States sent me the whole series – she's awesome).  But, really, I hate loaning out any of my precious book babies.
11. "Teardrops On My Guitar":  a book that made you cry
Haha.  A book?  Okay, the one I can always count on to leave me a helpless puddle of tears is The Book Thief.  I literally cannot without the last few chapters.  I'm tearing up just thinking about them.  Heartless by Marissa Meyer would be another strong contender.
12. "Shake It Off": a book you love that other people hate
Lord of the Flies by William Golding.  Not everyone hates this but one of my best friends does so it makes for some interesting conversations whenever this beautifully written tragic perfect unexplainable piece of writing book gets mentioned in our [internet] presence.
13. "Stay Stay Stay": a book you wished could go on forever
I can only think of series for this.  Like Narnia or Caraval or The Lunar Chronicles.  I was about to say The Outsiders but then I remembered that S.E. Hinton said that Darry died of ?cancer? and Soda got killed in Vietnam so…THANKS BUT NO I THINK I'M GOOD TO GO.
14. "All Too Well":  a series you wished could go on forever
Ha!  I didn't see this was the next question.  Lol.  I'm going to go with Caraval for this because Narnia was meant to end the way it did, y'know?  And The Lunar Chronicles did get a couple follow-up graphic novels.  But Caraval?  Yes, it ended quite well.  But I want to stay in that addicting, dark, gorgeous world forever. (Just not irl.)
15. "Ronan":  a book with a tragic character death/death of an innocent
I feel like a broken record, but HEARTLESS.  Jest's death tore me up almost as much as it did Cath.  He did not deserve it!  And how Cath says that he was innocent and then Hatta's all like "Martyrs usually are" and MY HEARTTTTT.
16. "Out of the Woods": a book that had you worried about the characters up to the very end
Okay, so, Jack Cavanaugh wrote two books about different translations of the Bible – Glimpses of Truth (Wycliffe translation) and Beyond the Sacred Page (Tyndale translation).  Glimpses of Truth ends with a horribly heartbreaking death – I'm still scarred.  Then I picked up Beyond the Sacred Page and it actually looked like it would end the same way and I was so scared that I did what I never do – I skipped to the end.  So, yes, I was pretty worried.
17. "Getaway Car":  a book with a tempestuous romance
The Hunger Games.  I believe this book birthed the modern love triangle that we all hate to hate, but Suzanne Collins actually did it well.  Katniss isn't wholly consumed with what boy she's going to go with and her indecision is based on facts and circumstances, not feelings.  I ship her and Peeta so hard and the ups and downs of their relationship never fail to move me. (May I point out that their romance is 'tempestuous' only on Katniss' side?  Peeta is steady as a rock.)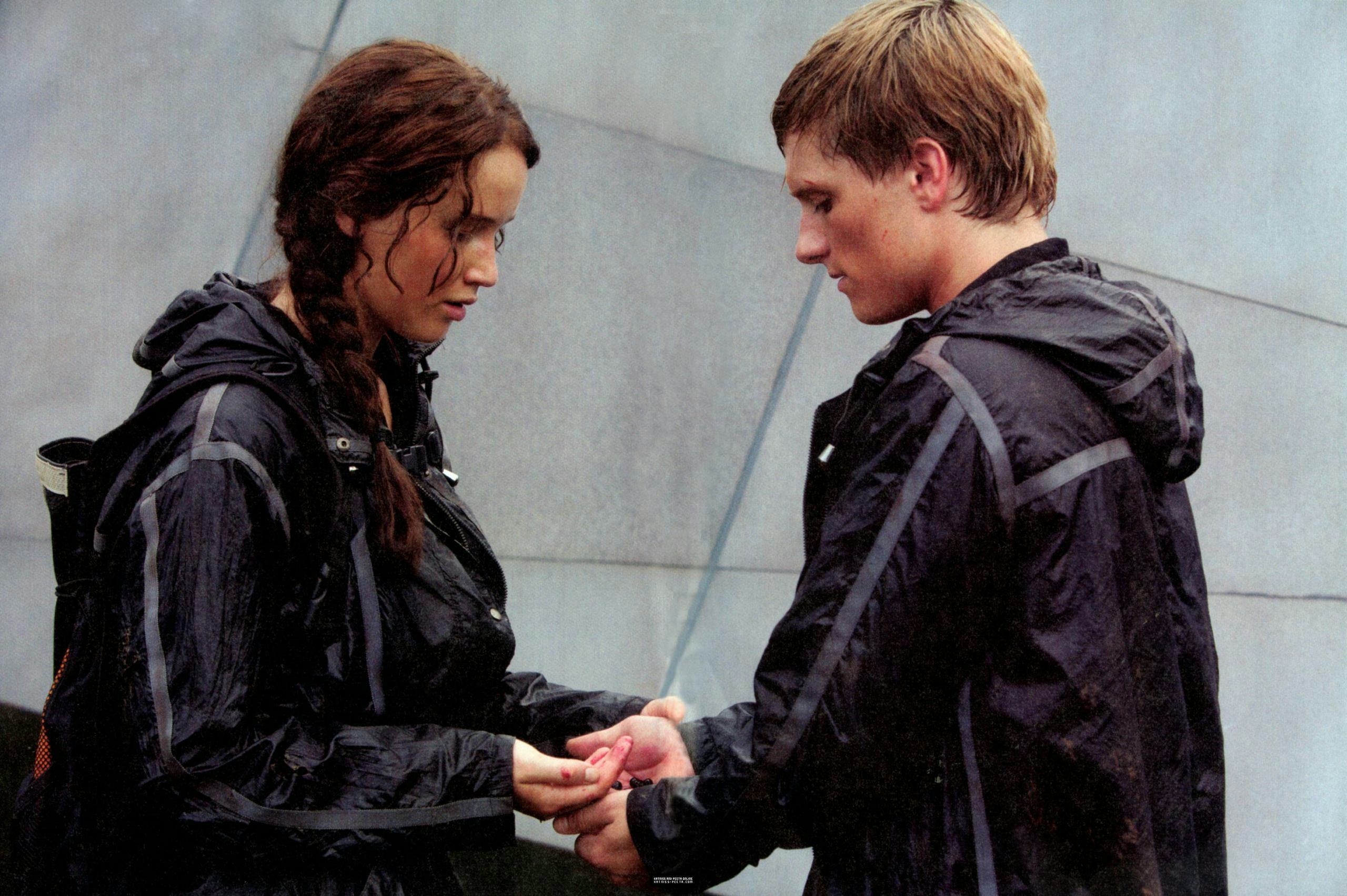 18. "Clean": a book that taught you something profound
Romanov by Nadine Brandes taught me a lot about forgiveness.  It's very personal to me. ❤
19. "Long Live": a book that transports you every time
Caraval (+ Legendary + Finale).  I don't quite know how Stephanie Garber manages to weave such a spellbinding story and create such an amazing world…but she has me entranced every time.  The world of Caraval is unlike anything I've ever experienced in a book.
_______________________________
So!  What did you think of my answers?  Have you ever read any of these books?  What are your answers to this tag?  Let me know in the comments!
Eva